Simple goat house plans
Goat house is a place for goats as livestock do most of its activities.
In goats' houses, goats are usually fed, drunk, exhausted, rested, chewed and others.
That's because for Indonesia, it is very rare to use a pasture pen, maybe only a few large breeders can do it.
Why so, many influential factors. I do not know these factors so I do not write that I do not know.
I just know what I write. Ha ha ha..
Goat house is like a house that is needed by humans.
By nature, the goat has no home or a place to live in its survival.
He lives colonizing and moving around. Therefore, if the goat is not caged, it can be completely lost running everywhere.
Providing a goat house is a duty or necessity for goat livestock owners. Because the owner is human so they are bound by social factors of society.
What I mean is that if a person keeps a goat, so that the goat does not damage the plants and pollutes the neighbor's yard, then the goat should be housed.
That's what I call goat farms sometimes bound by the social factor of the owner. So, not just bound by the rope.
So, what's a good goat house?
What is clear, the construction of goat house must be strong.
Any animal that is in the cage, there will be an interaction between the animal and the cage.
The interactions I mean vary. It could be a goat rubs his body against the wall of the cage, plowng, eating cages and so forth.
By knowing the kind of goat interaction with the cage hopefully you can estimate what kind of goat house will be made.
As an illustration: why cattle sheds, goats, and birds differ because of their different interactions with their cages.
A bit impossible when a goat is caged like a bird cage, a large cage with a door and a hanger.
Goat house makes it easy for goat droppings to separate from goats. The term cool is self cleaning.
What I mean is that when the goats waste (small and big), soon after that the dirt does not accumulate together with the goat resting place.
In that way, goats are kept clean and can also keep goat's health.
Instead, goat house should be able to protect the goats from the scorching heat, strong winds and heavy rain.
So use roofing materials, frames and walls that allow for the purpose. For example wood, bamboo, concrete, asbestos and tile.
What is the ideal goat house design?
For the design, actually according to taste and also fit the budget. A good, durable cage is usually expensive.
Ugly cages, quickly collapsed are usually cheap.
Adjust it within budget.
The image below is a simple example of a goat house that will be maintained intensively.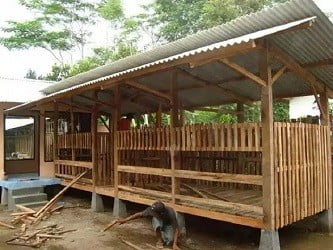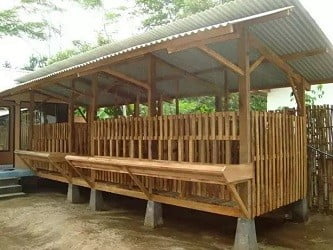 I say thanks to etawajaya.com because of one of his articles I get a photo of the cage that might be an inspiration for us together.
Thus a simple goat cage article may be useful.