Perform Treatment For Anthracnose Early
Anthracnosis is a plant disease caused by the fungus Colletotrichum capsici.
Besides being known as anthracnose, this disease is also known as plant canker.
Canker plant caused by fungi with the genus Colletotrichum spp. However, specifically found more from the type C. Capsici.
The environment that supports the development of this fungus is almost the same as the fungus that causes leaf spot. In other words, almost all regions in tropical countries are very potential for the development of this fungus.
This fungus is dominant in attacking chili.
Symptoms of anthracnose attacks are characterized by brown or black patches which are slightly sunken inward.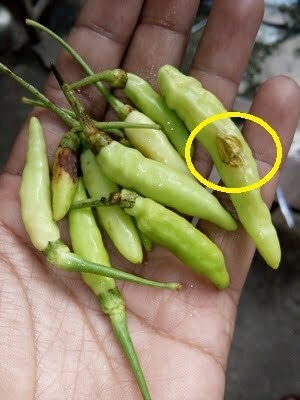 Initial attack, the fungus forms blackish-brown spots on the surface of the fruit, then becomes soft rot.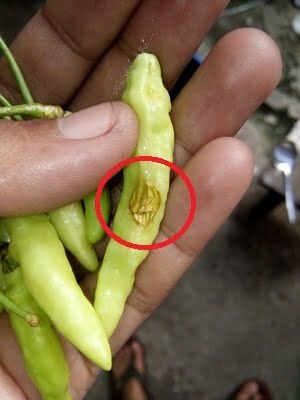 The middle part of the fruit appears to be patches of black dots which are groups of seta and conidium.
Severe attacks cause all the fruit to wrinkle and dry out. Fruit skin color resembles rice straw. In hot and humid weather conditions, the development of this disease becomes faster.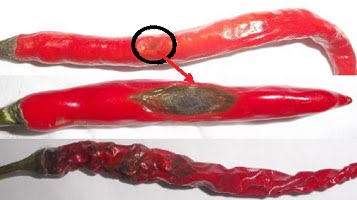 The level of damage caused by anthracnose can be very severe. It can make the harvest fail completely (fail 100%).
Why anthracnose attacks on chili can be that bad?
When mold spores spread, they will stay where they are attached. This can be accelerated by splashing rain or wind.
The anthracnose spores attached to the young chilies will not do anything. They will keep quiet.
The silence of this fungus is because when the chili is young, it contains anti-fungus compounds.
One of these anti-fungal substances is the esterase enzyme. This enzyme is found on the surface of chilies.
The presence of this enzyme on the surface of young chilies can inhibit the growth and development of fungi.
Only when the chili is in climacteric conditions, anthracnose fungi will be active. Climacteric conditions can be simply understood as a state of fruit that is old and soon ripening.
In addition, in these conditions chili can provide what is needed by the fungus. Thus, anthracnose fungi can develop very quickly.
That means, most likely anthracnose symptoms will be seen when the fruit is old. And, in the near future, the fruit will be harvested.
If this is not detected quickly, at the same time, the fruit will be damaged by this anthracnose.
This is why anthracnose attacks on chili peppers can ruin the harvest or reduce yields by at least 50%.
Because the attacks are simultaneously and only seen when the chilies are old.
This fungus can last a very long time.
Because anthracnose can also attack the seeds, if the seeds are used again, then the cycle will be repeated.
Namely, anthracnose will attack the stem then spread to the fruit.
Control and treatment is done by wiping out infected plant parts. An example is by burning it.
In anticipation of soil contamination, we must also use seeds that are resistant to anthracnose.
Now, all the seeds of plants that are sold, on average, are varieties that are anthracnose resistant.
Prevention and treatment for anthracnose must begin early.
1. Treatment for Anthracnose by Probiotic Coated Seed
Now, coating the seeds with probiotics has begun to be applied. But whether all the seed brands do it or not, I don't know.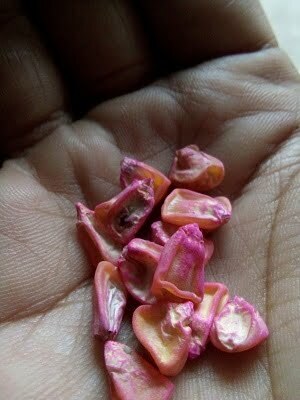 As far as I know, the chili and corn seeds that I have bought have a pink coating on the seeds. Maybe, this is the probiotic layer in question.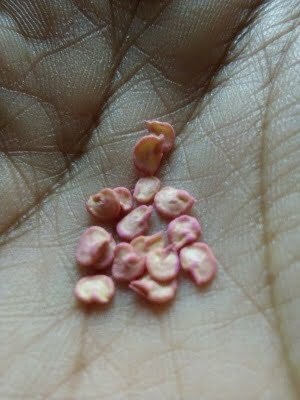 Coating the seeds with this probiotic has several advantages. Among them are: [1]
Maintain seed viability. This can make the seeds last longer and have a high germination rate.
Protect seeds from pathogens that cause seed-borne diseases.
Protect seeds from seed pathogens in the soil.
Keep the seeds from pathogenic organisms during seed storage.
Probiotics used must have mutualism symbiosis with the soil. Thus, when the chili grows, they can help each other.
The bacterium used to coat the seeds is usually PGPR which is Plant Growth Promoting Rhizobacteria.
This type of bacteria is usually Actinomycetes sp., Bacillus sp, Serratia marcescens, and Pseudomonas fluorescent group.
Bacillus subtilis in addition to PGPR is usually also used as a probiotic in biofloc catfish. Whereas pseudomonas can easily be found on EM4 probiotics.
Application of probiotic coating on chili seeds has been studied and the results are indeed correct.
The viability of chili seeds can be maintained up to a level of 84%. Increase sprouts. Maintaining the health of seeds from anthracnose infections.
In addition, Bacteria such as Bacillus sp., pseudomonas, and Actinomycetes sp. prospectively used as a biological agent to control anthracnose disease in chili seeds because it has antagonistic properties against C. acutatum and contains IAA and gibberellins. [2]
But unfortunately, how to coat seeds with probiotics is not easy to imitate. Need special equipment or machinery to do this.
Probiotics are used in the form of suspension. Then the adhesive uses sodium alginate.
Every 100 grams of seed, requires 15 ml of probiotic suspension and a concentration of sodium alginate 5 grams / 100 ml of water.
The coated seeds are dried until the seeds have a moisture content of about 10.4%. Then, the seeds are packed in polyethylene plastic containers.
Usually, the provision of PGPR is still recommended when seeding. That is, the seeds are soaked for a certain time in PGPR liquid.
2 Treatment for Anthracnose in chilies with antagonistic bacteria
The coating of chili seeds with probiotics is to prevent anthracnose attacks from seeding. But, do not rule out the possibility when a fruitful chili will experience anthracnose attacks again.
Therefore, relying on the existing prevention of seeds alone seems less than optimal.
If it turns out the chili is indeed attacked by anthracnose, it must be treated as well.
This treatment can use a contact fungicide. Whether it's synthetic or organic fungicides. But, this time not both, but using probiotics.
This probiotic will act as a bacterium or antagonistic fungus. They will work by suppressing the activity of anthracnose fungi on chili.
The type of bacteria used is also almost the same as the bacteria used to coat chili seeds.
Among them are the types of bacteria Bacillus subtillis, Pseudomonas fluorescens and fungus Trichoderma harzianum.
Bacillus bacteria can form endospores as dormant structures that are resistant to drought, heat, UV radiation and organic compounds. [3]
In other words, it can last a long time in plants. For as long as the fungus causes anthracnose in chili.
Slightly different from the fungus Trichoderma sp., This fungus is a beneficial microorganism, avirulent against host plant pathogens, and can parasitize other fungi. [3]
Thus, the fungus Colletotrichum capsici may be one of the targets of the fungus Trichoderma sp. This.
The use of probiotics to treat anthracnose in chili has also been studied. The results are quite optimistic.
Bacterial dose with a concentration of 30 ml/liter, the results are the same as the use of chemical fungicides. Chemical fungicides used as a comparison are fungicides with 70% Propineb active ingredient. [3]
In addition, how to apply it is also easy. We can use probiotics from each of the bacteria above. You can use bacillus subtilis only, Pseudomonas only or Trichoderma.
But, according to the study, the combination of the three gave the best effect on anthracnose in chili.
The important thing is we have to look at the density or the number of bacteria in the product. The density of bacteria and fungi should be, at least this much.
| | |
| --- | --- |
| Types of bacteria or fungi | Density |
| Bacillus sp | 109 cfu/ml |
| Pseudomonas fluorescens | 109 cfu/ml |
| Trichoderma harzianum | 106 conidia/ml |
Usually, probiotic packs include the density of these bacteria.
As much as possible look for products that are already in liquid form. Because it will be easier to use.
At a minimum, the density must be the same as the table above. Because of the difference in one number, the amount will be very significant.
Example:
One product A has a bacterial density of 109 CFU/ml while product B has a density of 108 CFU/ml.
Then, each product is packaged in an amount of 1 liter (1000 ml), bottled.
Then the total bacteria in products A and B can be compared in the table below.
| | | |
| --- | --- | --- |
| Density | Volume | Total Bacteria |
| 109 cfu/ml | 1000 ml | 1000 x 10 x 108 cfu/ml |
| 108 cfu/ml | 1000 ml | 1000 x 1 x 108 cfu/ml |
In the same volume, the number of bacteria in bottle A is 10 times more than bottle B. Calculate for yourself the difference in price if both are sold at almost the same price.
Treatment for anthracnose:
Take as much as 30 ml probiotics and mixed to 1 liter of water. Spray to chili or other plants every 1 week, 2 weeks or 3 weeks.
3 Patchouli oil is effective in anthracnose chili
Anthracnose attacks on chili not only when the fruit is in the tree, but also when the fruit has been harvested.
In other words, chili which is in storage can be attacked by anthracnose. In fact, the development of anthracnose during storage can be faster than when the fruit is still in the tree.
Because when stored in a sack, the humidity and temperature in the sack are higher. Similarly, when in the delivery process.
Especially if long-distance delivery. There is a risk of traffic jams on the road, the heat and humidity makes the anthracnose fungus can develop more severe.
Are there any treatments on the chili during the storage process?
There is. One of the ingredients that can be used is patchouli oil. Besides being used as an anti-anthracnose during storage, patchouli oil is also effective in treating anthracnose when the fruit is still in the tree.
This is because patchouli oil is composed of compounds as follows:
Patchouli alcohol.
Caryophyllene oxide.
Aristolone,
nookatone,
β-Vetivone,
α-Vetivone, and
Corymbolone
Eugenol
Eugenol is included in the oxygenated monoterpen component which is a phenol compound that can react with strong bases and are anti-fungal. [4]
The form is liquid oil, colorless or slightly yellowish, and will turn brown when in contact with air.
But it does not dissolve in water.
Therefore, the solvent must be an organic solvent such as alcohol.
Based on research that has been done, the use of patchouli oil can suppress anthracnose attacks on chili and can prolong the shelf life of chili. [4]
With patchouli oil concentration of 2.5%, its ability to suppress anthracnose is as good as chemical fungicides.
Unfortunately, making patchouli oil solution or emulsion is not easy. If we do not really know about chemistry, we need the help of those who are experts.
4 Treatment for anthracnose with female papaya latex
Papaya latex is already well known for its function that can control pests in plants.
Aside from being an antibacterial, Papaya Latex can also be used as an organic fungicide.
This is because Papaya Latex contains the enzyme chitinase. Chitinase enzyme can degenerate or damage chitin compounds. Chitin is a constituent of cell walls of anthracnose fungi.
Therefore, if the cell walls of the fungus can be damaged, then it is very likely that the fungus will die.
Why does it have to be female papaya Latex? Emm … This is just an economic view, in my opinion.
As we know, there are three types of papaya fruit. Namely male papaya, female and hermaphrodite.
If papaya hermaphrodite, the fruit is very economical. Because of the fruit: [5]
Having thick fruit flesh because of a small fruit cavity.
It feels good.
The color of the flesh is interesting.
Solid fruit texture.
Sweet fruit taste.
While the female papaya fruit, the quality of the fruit is the opposite of it all. Thick skin, little fruit, not tasty. Who wants to buy fruit like that?
What about male papaya? Male papaya doesn't even bear fruit at all.
So, in my opinion, the quality of the female papaya sap and the hermaphrodite papaya are equally good.
It's just that, if the hermaphrodite papaya fruit skin has been scratched, it will not be sold. Or the price will be cheap.
If you want to get female papaya, different sources of seeds will produce different types of plants.
Middle and tip papaya fruit will produce more hermaphrodite plants than at the base. The ratio is between 2: 1 to 3: 1.
In other words, hermaphrodite plants can be produced from seeds from 1/3 tip as much as 75%, 1/3 middle 65%, and 1/3 base 50%.
Ok, problem solved. We return to the point.
This papaya latex has been tested on anthracnose fungi and the results are quite ok. Ok in inhibiting and controlling anthracnose in chili. [5]
The most effective concentration during the study was 4%. At these concentrations, the ability of Latex papaya in controlling anthracnose is able to compete with chemical fungicides made from mancozeb.
But unfortunately, during the research, Papaya Latex was dissolved with liquid PDA (potato dextrose agar). This becomes difficult to imitate in the field.
But does papaya sap not dissolve in water?
It seems to dissolve. We see the papaya Latex content that the water content is very high, which is up to 82%. Chances are, this Papaya Latex can be dissolved in water.
If it can dissolve, then everything will be easier.
To make papaya Latex solution with a concentration of 4%, we only need to mix 4 ml of papaya Latex into 94 ml of water.
If you want to make a solution of 1 liter, then the Latex papaya as much as 40 ml.
I think it's enough up to here, about treatment for anthracnose. Hope it can be useful. thanks.
Reference
[1] Sarah Desmia Muchtar, Eny Widajati and Giyanto. Seed Coating Uses Probiotic Bacteria to Maintain Viability of Sweet Corn Seeds (Zea mays saccharata Sturt.) During Storage. Bul Agrohorti 1 (4): 26 – 33 (2014).
[2] Anna Tefa, Eny Widajati, Muhamad Syukur, Giyanto. Utilization of Probiotic Bacteria to Suppress Colletotrichum acutatum Infection and Improve the Quality of Chili Seeds (Capsicum annuum, L.) During Storage. Journal of Agricultural Conservation of Dry Land International Standard of Serial Number 2477-7927.
[3] Nugroho Sulistyo Putro, Luqman Qurata Aini and Abdul Latief Abadi. Testing of Antagonistic Microbial Consortium for Controlling Anthraxose Disease in Big Red Chili (Capsicum annuum L.). Department of Pests and Plant Diseases, Faculty of Agriculture, Brawijaya University, Malang. HPT Journal Volume 2 Number 4 December 2014.
[4] Desni Roha Miriam S. 2013. Patchouli Oil as a Biofungicide to Control Anthracnose (Colletotrichum capsici (Syd.) Butler & Bisby) in Chili. Thesis. Department of Plant Protection Faculty of Agriculture Bogor Bogor Agricultural University.
[5] Dedi Purnomo. 2008. Application of Two Papaya Female Genotypes as Biofungicides to Control Anthracnose (Colletotrichum Capsici (Syd.) Bult. Et. Bisby) in Large Red Chili (Capsicum Annum L.). thesis. Department of Plant Protection, Faculty of Agriculture, Bogor Agricultural University.