I can help you on how to grow red spinach in pots. Especially for those who really like red spinach. Because red spinach is very easy to grow and grows very quickly, whether it is grown in pots or hydroponically. By growing it in pots, we can get fresh red spinach whenever we want.
I think for those who really like gardening, red spinach plants must be in our gardens. I'll show you how. I guarantee, how to grow red spinach in these pots will not bother you at all. This post is like my another post for growing plant in pots, that is sunflower.
Immediately, here are the steps. Read carefully.
How to grow red spinach in pots, especially for beginners
This method of growing red spinach in pots is perfect for those of you who don't have any experience before. Because, you can say the method is very easy. In addition, the potential for success is very large.
Even though it seems trivial, something that comes from his own efforts must taste different. For example, when you cook red spinach from your gardening. Especially for those of you who have never had any experience before.
Indeed, growing red spinach is very easy. Especially if planted in pots. Even so, surprisingly there are still some who fail. Well, for those of you who don't want the same fate, then this is how to grow red spinach in pots.
Stages of growing Red Spinach in pots
There are important things you should know about growing this red spinach. That is related to the conditions for growing red spinach that you must fulfill. Red spinach can grow in a wide temperature range. Can be in the highlands or low. The proof, I plant it in the lowlands, the growth is very good.
So, don't be discouraged if we live in the lowlands, we can still grow red spinach by ourselves.
The benchmark is temperature. Red spinach can grow optimally in the temperature range between 10 0C – 27 0C. Then the extreme temperature is between -6 0C – 32 0C. However, to be able to germinate, the lowest temperature is up to 4 0C only.
1 . Preparing planting medium
The soil used must contain humus. Or use a fertile planting medium.
We can make a good planting medium by using a mixture of soil, sand and compost. The comparison is 1:1:1, respectively. Sand can be replaced with husks or burnt husks.
Then after the planting medium is prepared, we can immediately plant it with the red spinach seeds.
"Note: if you use immature compost, it's best if the planting media mix is left for about 2 weeks. If weeds are already growing, it means that the planting medium is ready to be used."
2 . Looking for Red Spinach Seeds
To get this red spinach seed, you can get it from old red spinach flowers. But if you want a simpler way, you can buy it at a seed shop.
If I myself prefer red spinach seeds, just buy it. The quality is guaranteed and the growth power is still good.
Regarding the brand, there are many choices.
3 . Seeding
The next way to plant red spinach in pots is seeding. After you have succeeded in getting red spinach seeds, continue with making seeding media. For this time, pots is the chosen medium.
What about the contents of the pot? Fill the pots using a mixture of soil, husks, and organic fertilizer. The ratio of the three is 1:1:1. Next, spread the red spinach seeds that you bought earlier on the surface of the pot. Then add the mixed soil just a little above it.
The above method is a common method used to sow red spinach seeds. But the disadvantages are like this:
Sometimes there are too many spinach seeds that are spread, so they will grow too tightly. We will have to space this red spinach by pulling it out and transferring it to the enlargement medium.
In addition, spinach must be covered with a thin layer of soil. If it's too thick and deep, sometimes red spinach doesn't grow.
Because the ground cover is only thin, the soil surface will dry quickly. Especially in the tropics. The way to deal with it is to water it often with a soft sprayer. Watering at least 3 times a day to keep the surface of the media always moist.
Or, we can seed it in rockwool, this is easier in my opinion. Because I don't have time to control humidity often, so by sowing red spinach in rockwool I don't have to control rockwool humidity every day.
The method is as follows:
Cut rockwool into 2.5 cm x 2.5 cm and moisten until wet. Drain and place on a tray.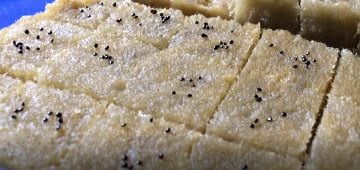 Place the red amaranth seeds on the wet rockwool surface. Rockwool does not need to be perforated, just press the seeds – just press a little.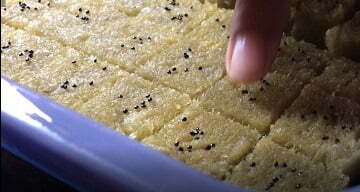 Cover the tray with black plastic and store in a damp place.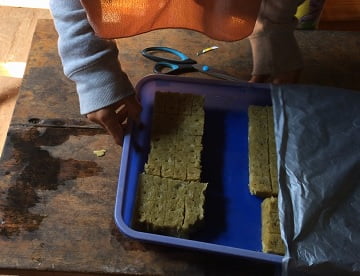 If the seeds are still good, then in just 24 hours the many seeds have germinated (sprouting). Open the plastic cover and place it in a bright place.
4 . Red Spinach Seed Planting
Red spinach seeds are ready to be planted when they have sprouted with a height of about 3 to 6 cm. However, before that you have to prepare the plant media first.
Fill the pot using a mixture of soil, husk, and organic fertilizer. The ratio of the three is 1:1:1. Don't forget to let it sit for a few days before planting red spinach seeds.
Don't forget to water it regularly. So that the soil in the polybag is loose and slightly moist. Only then can you plant red spinach in the pot that you have prepared earlier.
One pot can be planted with several red spinach seeds at once. Depends on the size of the pot. If the size is 30 cm, 5-7 sticks per pot is good.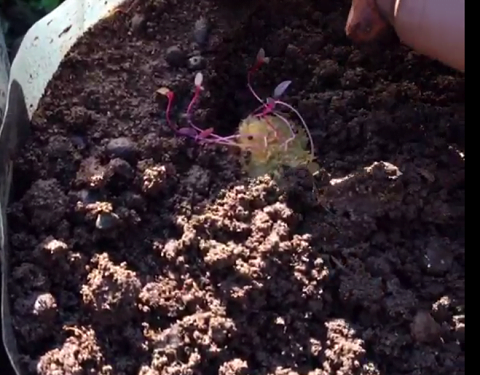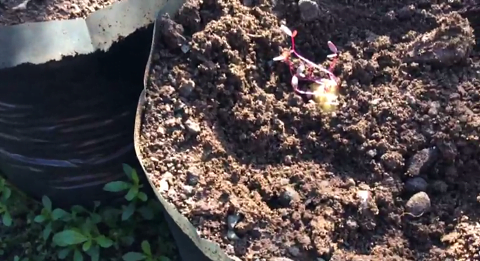 5 . Red Spinach Care
In order for red spinach to grow optimally, it must be treated properly too. In this case it is advisable to carry out initial watering using a mixture of water and liquid fertilizer. Do this for 7 days in a row starting from the red spinach seeds you planted in polybags.
Only after 7 days, you can water the red spinach using plain water until the harvest. In addition, you also need to fertilize the red spinach. Fertilize every 2 or 3 weeks. It is more recommended to use compost or manure.
Red spinach care
Just standard care, which is pulling out weeds for better red spinach growth.
Concerning plant-disturbing organisms, red spinach is not much of a nuisance. So we can calm down a bit.
6 . Harvest Time
This is the time you have definitely been waiting for. The question is when is red spinach ready to be harvested? If red spinach has many leaves and large sizes that tend to be the same, then this is the time for you to harvest the red spinach that you cultivate. In addition, generally about 20 to 30 cm in height.
Red spinach from seedling to harvest takes approximately 3-4 weeks. If the location is good, the sun is good, 3 weeks after sowing, red spinach can be harvested.
The picture below shows some documentation of the red spinach that I have done.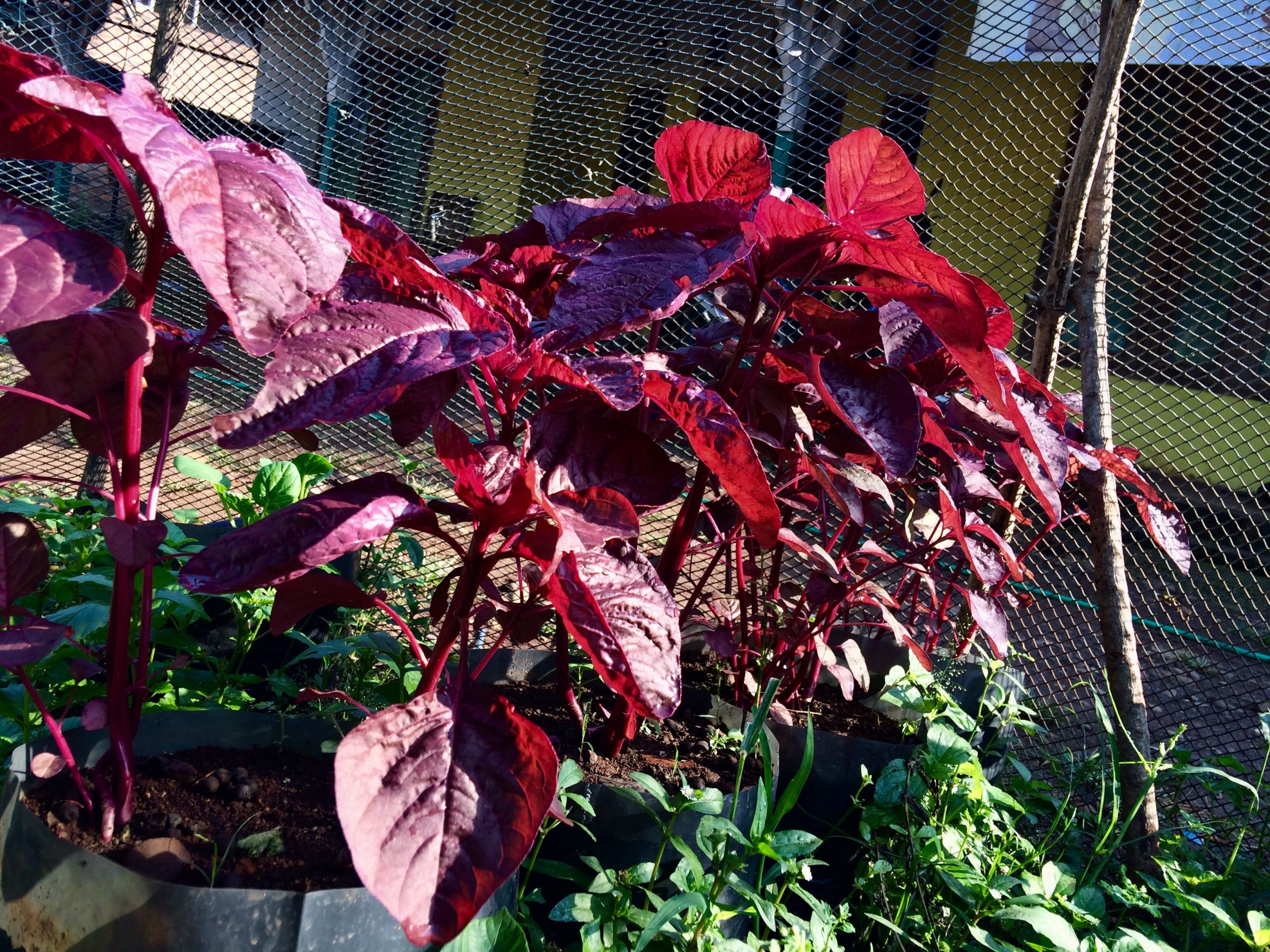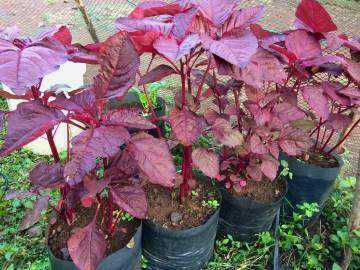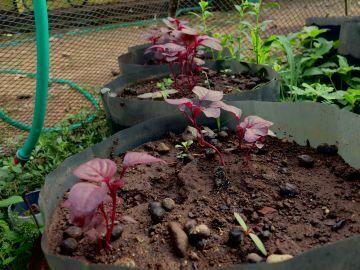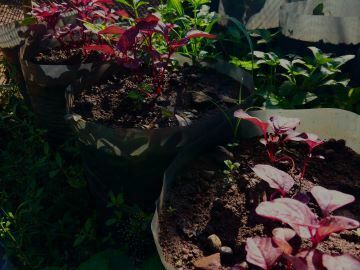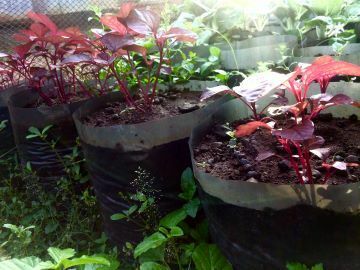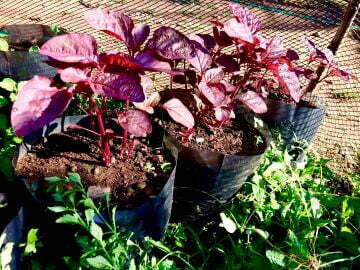 So that's how to grow red spinach in pots from start to harvest time. How about it, are you ready to give it a try? One type of vegetable that is known to have enormous health benefits. If that's the case, what are the benefits of this red spinach?
Great Benefits of Red Spinach for Health
Did you know that the benefits of red spinach for health are enormous. Naturally so, because red spinach is known for the nutrients contained in it. If that's the fact, then what are the benefits of this red spinach?
Overcoming Cancer
Of course, it is not without reason why red spinach is said to have the ability to overcome cancer. The antioxidants contained in it are said to be able to treat cancer.
Meanwhile, Vitamin C, E, amino acids, potassium, iron, and magnesium contained in red spinach are said to prevent the growth of cancer cells. This means that to prevent cancer, you can regularly eat red spinach.
Asthma Natural Medicine
Because you are looking for how to grow red spinach in polybags, you can know if it turns out that spinach is one of the natural remedies for asthma. This ability is due to the content of beta carotene in it.
It is said that if you consume red spinach regularly, the respiratory system that was previously disturbed can recover. Even for those of you whose respiratory system is blocked though.
Maintain Kidney Function
Red spinach is known as one of the vegetables that have a large fiber content. That is the reason why this vegetable has the ability to maintain kidney function.
The fiber in red spinach can help the kidneys to excrete more toxic substances. Thus, the health of your body will be more awake as well.
Anemia Medicine
For those of you who are looking for ways to overcome anemia naturally, you can take advantage of red spinach. This is because this vegetable is known to have a fairly high iron content.
When the need for iron in the body can be met, the amount of hemoglobin will automatically increase. Thus anemia can be resolved quickly. Well, it is also said if it turns out that red spinach also has the ability to facilitate blood flow.
Lose weight
For those of you who want to have a healthy diet, it seems that red spinach can be one of the best menus. Because red spinach in it contains two substances that can suppress hunger. These substances are fiber and protein.
In addition to having the ability to suppress hunger, the protein contained in red spinach is also said to reduce the amount of insulin in the blood. However, in order to lose weight quickly, it is also important to make other efforts. Regular exercise is an example.
So it turns out that there are so many benefits that can be taken from regularly consuming red spinach. One type of vegetable that you can easily cultivate yourself. This means that there is no longer any reason not to practice how to grow red spinach in pots.